A Decadent Dessert Pizza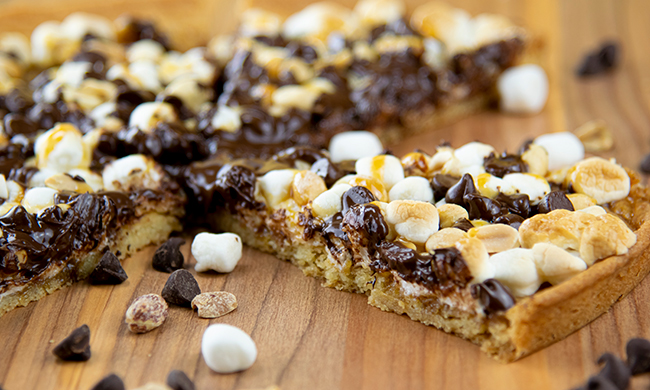 Pizza and dessert are two things nearly any crowd can agree on. Combining classic rocky road ingredients – chocolate, marshmallows and peanuts – on a giant cookie crust makes for a sweet treat that's perfect for a crowd and can be sliced and eaten with your hands. You can also adapt this Recipe and make it with S'mores Ingredients.y
Rocky Road Cookie Dessert Pizza
Watch video to see how to make this recipe!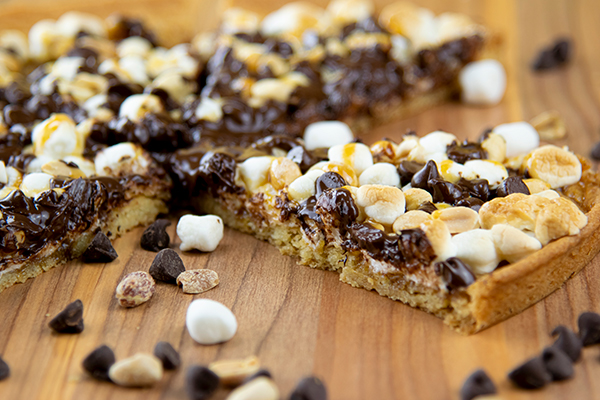 Rocky Road Cookie Dessert Pizza
Recipe adapted from Pillsbury
            Nonstick cooking spray
1          roll (16 1/2 ounces) refrigerated sugar cookie dough (or graham for S'mores)
1          cup miniature marshmallows
1/2       cup salted peanuts
1/2       cup semisweet chocolate chips
1/3       cup caramel topping
Heat oven or grill to to 350° F.
Grease 12-inch pizza pan with nonstick cooking spray. In pan, break up cookie dough. In bottom of pan, evenly spread cookie dough to form crust. Bake or grill on cool side, indirect heat 12-17 minutes, or until light golden brown.
Sprinkle marshmallows, peanuts and chocolate chips evenly over crust. Bake 8-10 minutes, or until toppings are melted. Drizzle with caramel topping. Cool completely, about 1 hour. Cut into wedges.
Collaborated Content
Find more dessert recipes at Culinary.net.
SOURCE:
Culinary.net
Republished by Blog Post Promoter