Now that Barbecue Season is beginning, invitations from friends and family will flow to attend a few grilling sessions. You may even be a newbie starting out with your first grill. You want to appear knowledgeable and an old experienced hand, when assisting those friends or chatting to your own guests. Here is a list of questions you probably feel you should know the answers to but are a bit embarrassed to ask.
What's the difference between Dry aged and Wet aged Meat?
Dry aged beef is the older traditional way of aging meat. Usually, whole sides and cuts are hung in cabinets or open air at a temperature just above freezing and left to age for several weeks. The enzymes work on the muscle tissues and the meat slowly dehydrates. This result is tender meat with an intense flavor.
They have introduced wet aged beef with the modernization of vacuum sealing and airtight plastic bags. Beef is vacuum sealed in plastic and the aging takes place within the vacuum bag. It usually stays sealed for between 10 and 14 days. The result is a well-aged beef that maintains its weight. This is obviously the cheaper way of aging the meat and it reflects in the butcher's price. Unless specially marked most beef purchased in supermarkets is wet aged.
The biggest difference between the two is that the dry-aged beef as a "nutty flavor".
How long should you wait between removing meat from the refrigerator and placing on your grill?
A good guideline is 30 minutes once you take the meat out of the fridge. However, this is fairly controversial as tests have shown that it does not make a huge difference to the internal temperature of the meat. It seems to ensure that the meat grills a little quicker and that results in less handling which benefits the meat.
Which is the most useful barbecue accessory?
A simple answer to this question is a decent pair of tongs. Choose those with long handles which have a comfortable protective grip. They should be easy to clean and preferably have a hook for hanging on the side of your BBQ for easy access.
Which is the best store bought barbecue sauce to buy?
Sometimes we just don't feel joy making up our own Barbecue sauce. After trawling the internet for reviews on bottled Barbecue sauces available in the States, the conclusion is that these are the top three favorites across US population. (Of course, everyone has their special preference but at least you can sound knowledgeable about what's available ).
Trader Joe's Kansas Barbecue sauce
Stubbs Smokey Original Barbecue sauce
Sweet Baby Rays Barbecue sauce
We don't always follow the popular view, READ Our Top 5 BBQ Sauces and Review
When is the best time of the year to buy a new Barbecue grill?
Without doubt if you are considering a new grill the best time for special deals is towards the end of summer. Prices (particularly Labor day sales) can drop by as much as 50–60% in the fall.
How many styles of Barbecue are there in the States?

Tennessee/Alabama style: Ribs
Carolina: Shredded Pork
Texas: Beef Brisket
Kansas City: Sticky tomato based BBQ sauce
Looking for BBQ Near You? Check Our Directory 
How to sound knowledgeable about the heat of the charcoal fire?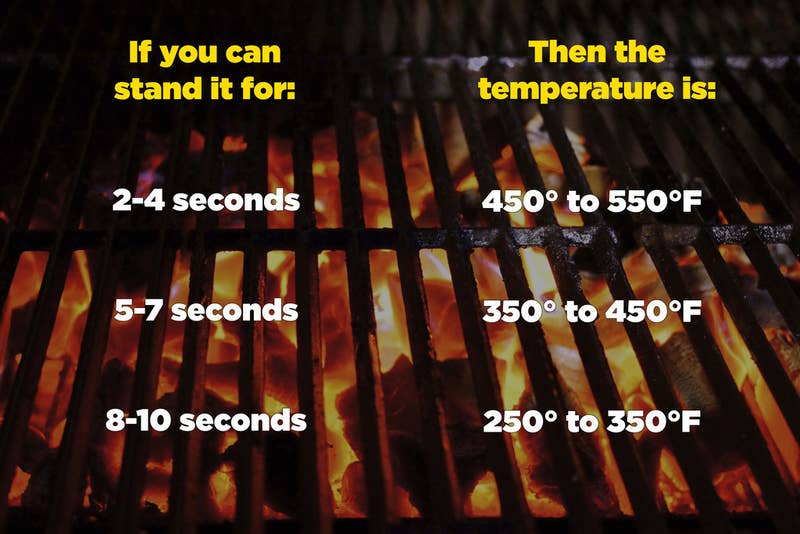 Use this as a broad guideline. It will help you establish when the right time comes to place your meat on the grill or at the least sound as if you know what you are doing!
What is a pit master?
According to the dictionary, this word is a Noun. "One who operates a barbecue pit. Sometimes a term of respect for someone skilled at barbecuing."
If you are new to the Barbecue scene your best bet is to ask questions, watch closely and grill often to gain experience. You CAN become that experienced pit master and gain the deserved title.
If you'd like a detailed explanation of what is and how to become a Pitmaster, go to … Are you a Pitmaster or Grillmaster?
READ MORE: 
Culinary Basics: Getting Started
Start with a Brine. Here's How 
BBQ Legend Aaron Franklin Reveals his SECRET BBQ Sauce Recipe Here: Get Recipe
4 SECRET BBQ Sauce Ingredients
Outdoor Cooking and Barbecue Terminology and Slang Words – Advanced BBQ Phrases
GET RECIPES:
Pitmaster and the Cook BBQ and Cooking Recipes
[jetpack_subscription_form]
Republished by Blog Post Promoter