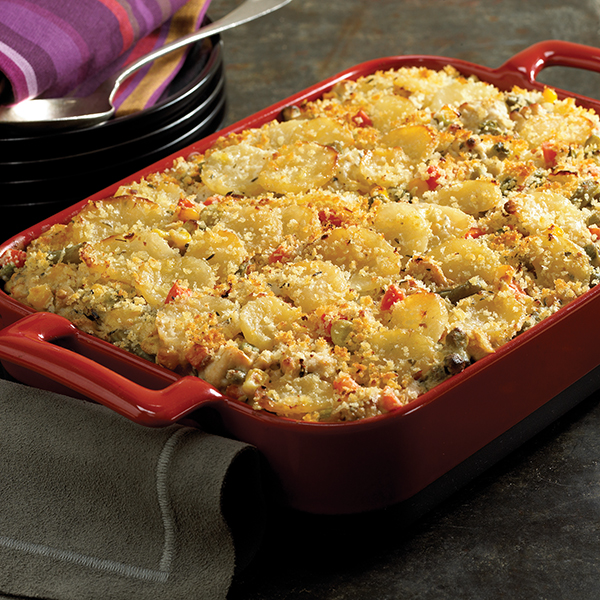 Potato, Turkey and Veggie Casserole
Prep time: 15 minutes
Cook time: 30 minutes
Servings: 6
1          tablespoon, plus 1 teaspoon, olive oil
3/4       pound extra-lean ground turkey breast
1/2       teaspoon dried thyme leaves
1/2       teaspoon garlic powder
1/2       teaspoon ground black pepper
1/2       teaspoon salt (optional)
1          can (15 ounces) READ German Potato Salad
1/2       cup light sour cream
2          cups frozen, thawed or canned mixed vegetables, drained
nonstick cooking spray
1/2       cup bread crumbs
Heat oven to 350° F. In large, nonstick skillet over medium heat, heat 1 tablespoon oil. Add turkey, thyme, garlic powder, pepper and salt, if desired. Cook 5-7 minutes, until cooked through, stirring occasionally and breaking turkey into large crumbles.
Stir in potato salad and sour cream. Add vegetables; stir to combine. Spray 2-quart casserole dish with nonstick cooking spray. Spoon in casserole mixture.
Toss together bread crumbs and remaining oil. Sprinkle over casserole. Bake 30 minutes, or until bubbly and heated through.
Substitution: Leftover chopped turkey (about 1 1/2 cups) can be cooked 2-3 minutes in skillet in place of ground turkey.
SOURCE:
Seneca Foods
AuntNellies
Republished by Blog Post Promoter